About Shadows of the Dragon


ETHOS
Established in January 2005 soon after the launch of Everquest 2, SotD has had a very rich history of bringing together like minded, mature friends, in many virtual worlds. From and early start, SotD almost closed it's doors in 2006 when those who originally created the guild left the game. A few new leaders took on the mantle of responsibility for the EQ2 guild and it soon flourished again. Since then, through the passion of the SotD community, it has gone on to become a strong gaming community based on 3 key simple values.

- Act with Maturity. This is not related to age, but to a mindset.
- Be present in the guild. You join a guild to be part of something greater.
- No drama. On the most part we all pay to play these games as escapism, not to add drama and stress to our lilves. Don't do it.


GUILDS OF SOTD
A brief account of the guilds SotD have participated in. While our members will have tried many other games in MMO land, these are guilds that have had, or still have, a highly active community within them, striving to achieve as a team.

- Everquest 2 : Jan 2005 - CURRENT (Guild is still active, but a gathering of friends now, not really run as a formal guild)
- World of Warcraft : 2006 - 2008
- Vanguard : Jan 2007 - April 2010
- Age of Conan : May 2008 - Nov 2009
- Warhammer : Aug 2008 - June 2010
- Rift : Feb 2011 - December 2012
- Star Wars - The Old Republic : Dec 2011 - Jan 2018
- The Secret World : Aug 2012 - Aug 2013
- Guild Wars 2 : Dec 2012 - Mar 2013
- Everquest Landmark : Feb 2014 - Sept 2014
- Final Fantasy XIV : Nov 2017 - CURRENT
- Pantheon : Rise of the Fallen - Eagerly anticipated to bring back the challenge and reward the modern MMO is lacking. Likely Alpha Summer 2019. Maybe Beta Winter 2019. STAY TUNED !

Above all, we are a community that values participation. We operate on a motto of "Help, and be helped !!". If this sounds like the guild for you, look us up in our current games or just say hi here. You might want to bring your experience as a leader to SotD and help shape the guild's future or you might be interested in being a player as part of the team. Or.... you might be looking at purchasing your 1st ever MMO and want an online family to stand with you....

Whatever your path, we hope to see you soon
I know that there are plenty of Shadows veterans that pop into the forums now and then, to see what's been happening, so I was a bit concerned that the lack of activity recently might lead you to believe that things in the guild have been winding down.
Very much the opposite in fact. We now have a Discord server, both for voice in-game and for general chit chat, so most of our general banter is on Discord now, rather than in the forums. We've had a couple of guild meets, one in Amsterdam and one in York, and there's been the usual barrage of Karofin bashing (I've also recently noticed a worrying trend of Macc bashing), so there's plenty for you all to catch up on.
If you want to join us, to keep up to date on the latest news, then download Discord at: https://discordapp.com/, create yourself an account and follow this link: https://discord.gg/6HQmrHb
If you have any problems with the link, just send a friend request to Maccaroni McNoodle#0231.
Take it easy
Macc
It took us a long time. We had many laughs, crazy and frustrating moments. We learnt a lot too - We all now know if you want to win something don't bring Phubar (he wins everything first), bring me (Xara) for a pretty much guaranteed win as we all know no matter how high I roll the dice I always lose, NEVER bring Karo as nothing ever drops, half the team is supper squishy too and Lalafell get knocked around and get under peoples feet.
But you know what - it was all worth it. In case you haven't figured it out I am of course talking about the Level 50 Legendary Mount Farming. Even unsynced it was interesting (who know doing too much damage was a bad thing?). All who took part got six beautiful mounts (which we won't ever use). The reward for that? Getting the original ultimate mount called Kirin.
Here we all are, specially for you, to show off this amazing mount (those wings are so cool) - of course the challenge of getting everyone together, in the correct positions and staying still was the hardest challenge I faced with all this :D.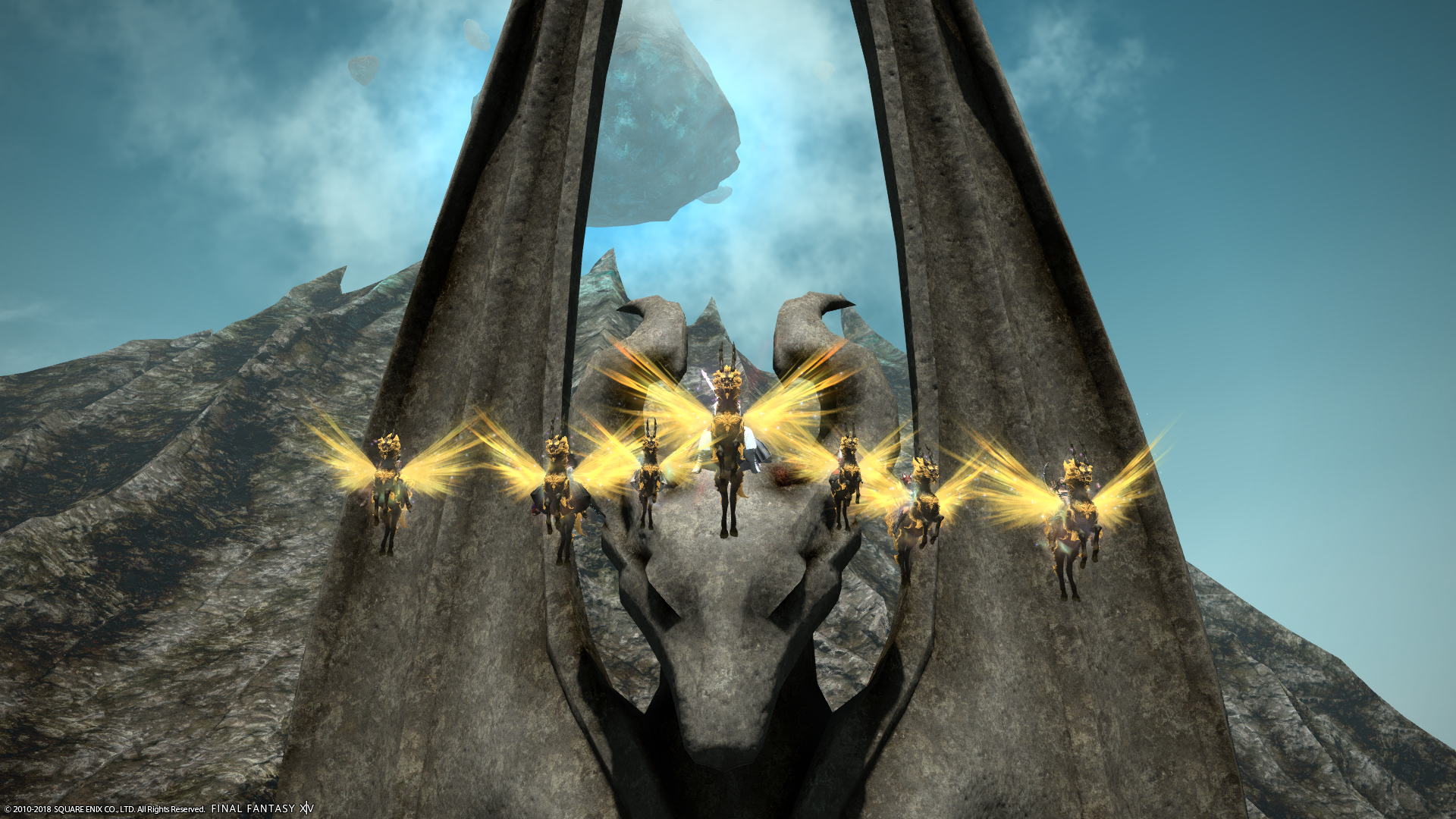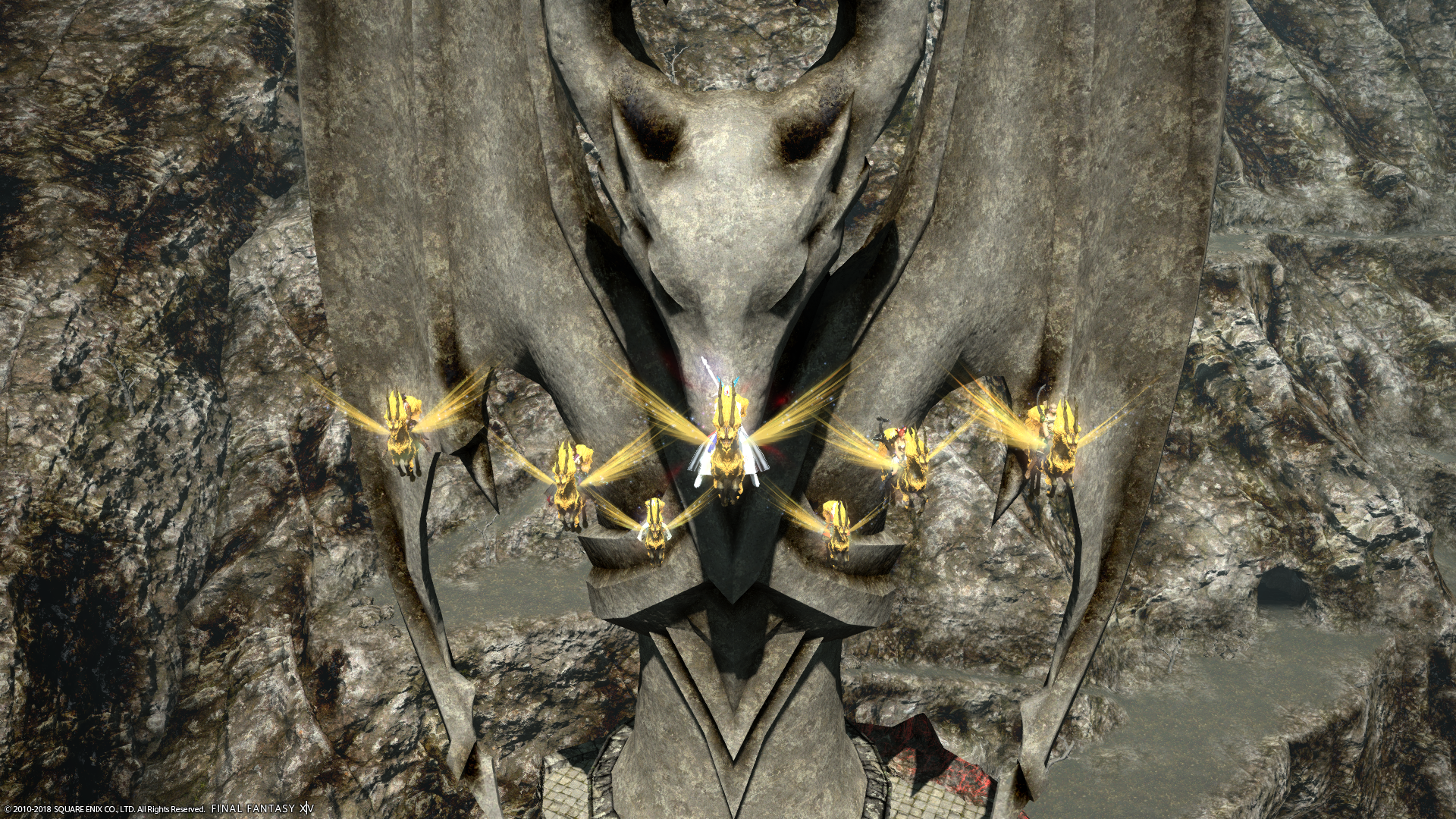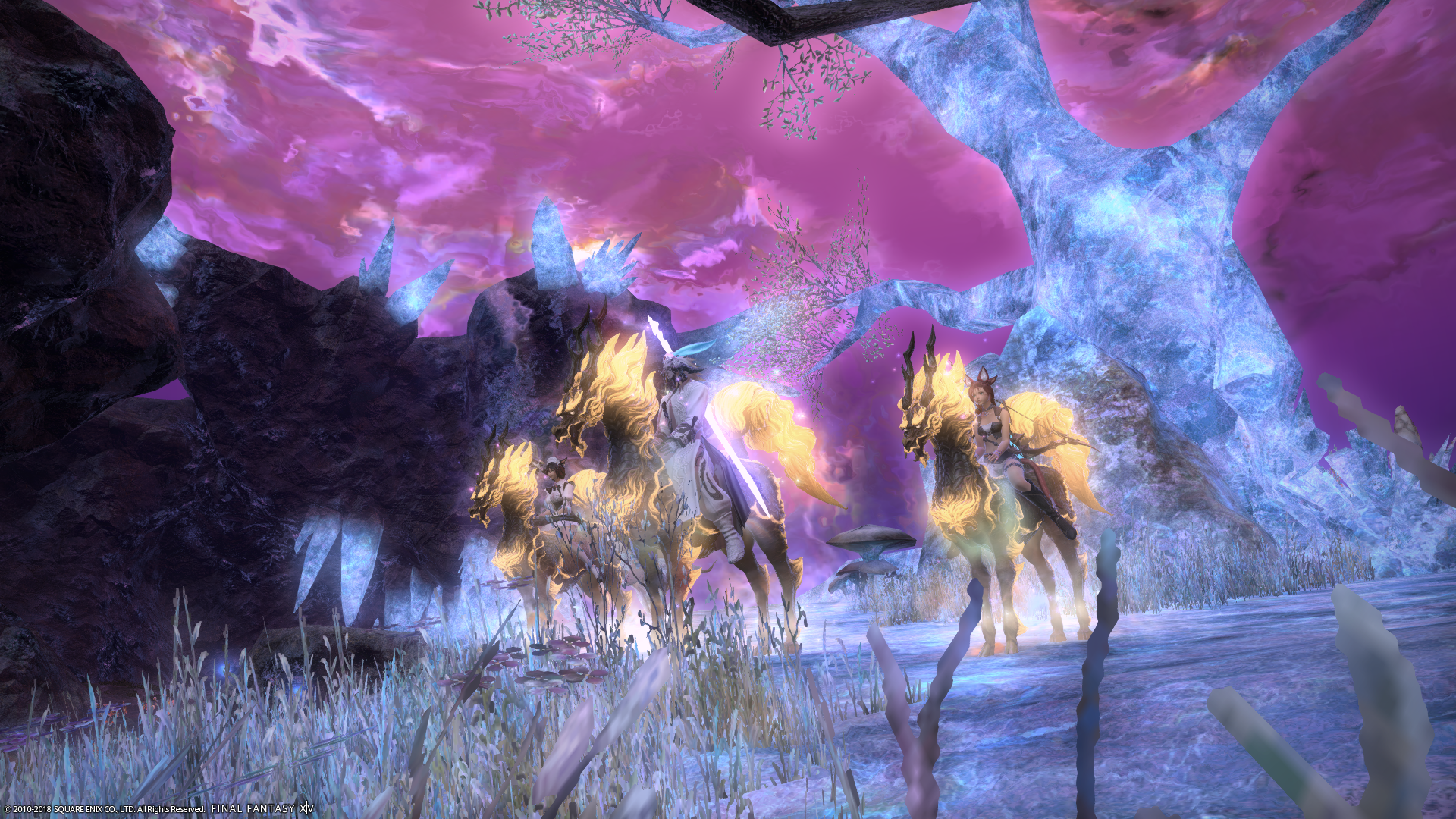 Thank you everyone who took part over the past weeks and months. It was certainly fun for me. Our next farming challenge is the Bird Mounts of HW. As we have learnt already this will be a bit tougher, but we have also learned that once we know what we are doing and we persevere the SOTDs can overcome any challenge.